New social media automation tools appear every other day. Tools like Buffer, HootSuite, and CoSchedule have led the way in social media automation software. Each of these tools caters to a slightly different market. So do you need another content discovery and automation tool? Does the world need a Buffer alternative? Is ContentStudio a Buffer-killer? Is this content curation tool a Buzzsumo alternative?
This comprehensive ContentStudio review looks at the pros and cons of my favorite social media management tool. If you're looking for an upgrade or replacement for your current social media scheduling tool, or you simply want to get started with a social media management platform with robust features, look no further.
I work as a full-time content marketer and have used Contentstudio extensively for my own projects and for my clients' social media channels. It has tons of features and a beautiful user interface. Overall, I think it's a great tool for agencies or freelancers who need web and social content management.
Update: you can now publish directly to Instagram and TikTok from ContentStudio.
Update: craft Twitter threads with high growth potential directly inside ContentStudio's Social Media Composer area
Post to Facebook Carousel posts with ease using the media library and schedule posts for later dates
Post video to Google My Business directly from ContentStudio
Publish as a page OR a profile on Facebook Groups from within the app
ContentStudio – One Tool to Rule Them All?
I'd like to say right away that I'm a fan of this product. I've used all the competitors and ContentStudio beats most, if not all of them. Let me tell you why.
The pricing plans, compared to other social media tools with similar capabilities, are very competitive
The free account gives you up to 500 posts per month. All paid plans allow unlimited social posts every month
The content curation and automation tool is very effective and is a feature that ContentStudio's competitors do not have.
The ability to schedule repeat posts with different content on different social media channels is superb.
The Evergreen tool gives you the ability to set up a "set and forget" posting schedule for content you want to go out at specific intervals.
The content discovery feature is easy to use, great for finding engaging content to post, and syncs with the automation posting tools.
Integration with other tools such as Pocket, content spinners, link shorteners, Feedly, and Replug put your marketing efforts into overdrive.
Ease of use of the entire platform and constant improvements from the development team.
There's a lot more, but these are the main points.
Before we get into the in-depth review, let's first talk about one of the newest features (release in 2023) called AI captions.
AI Captions
ContentStudio's AI Caption feature is a bit like ChatGPT or Copy.ai's chat features: create customized AI-generated content tailored to your audience, saving you time and ensuring your posts are as effective as possible.
The AI is optimized to create content tailored to your niche. You can also specify the length of your post and the AI will automatically adjust the content accordingly.
Add relevant hashtags (automatically generated), select the tone of voice (witty, professional, emthusiastic, etc), and select the number of variations to choose from.
Create tweet ideas, Instagram captions, and inspirational quotes. Click to instantly improve your content or expand upon a phrase or idea. summarize text or the contents of a URL. Create a pros and cons list. And more.
This is a hugely impressive feature and a very welcome addition to the social media management platform that will save any social media manager a ton of time.
App and Social Account Setup
This part is a breeze.
Create an account and add some social media profiles. Within a few clicks, you're ready to go. If you have an agency or work with social media marketers, you can add other people in the Settings > Team Members section. (Team members are available on the Small Business Plan and higher levels)
Connecting Accounts
Currently, ContentStudio supports TikTok, YouTube, Facebook, Instagram, Google My Business, Twitter, Pinterest, Linkedin, and Tumblr.
You can also connect your WordPress blog, Shopify blog, Tumblr, or Medium account to allow posting to your blog from inside ContentStudio.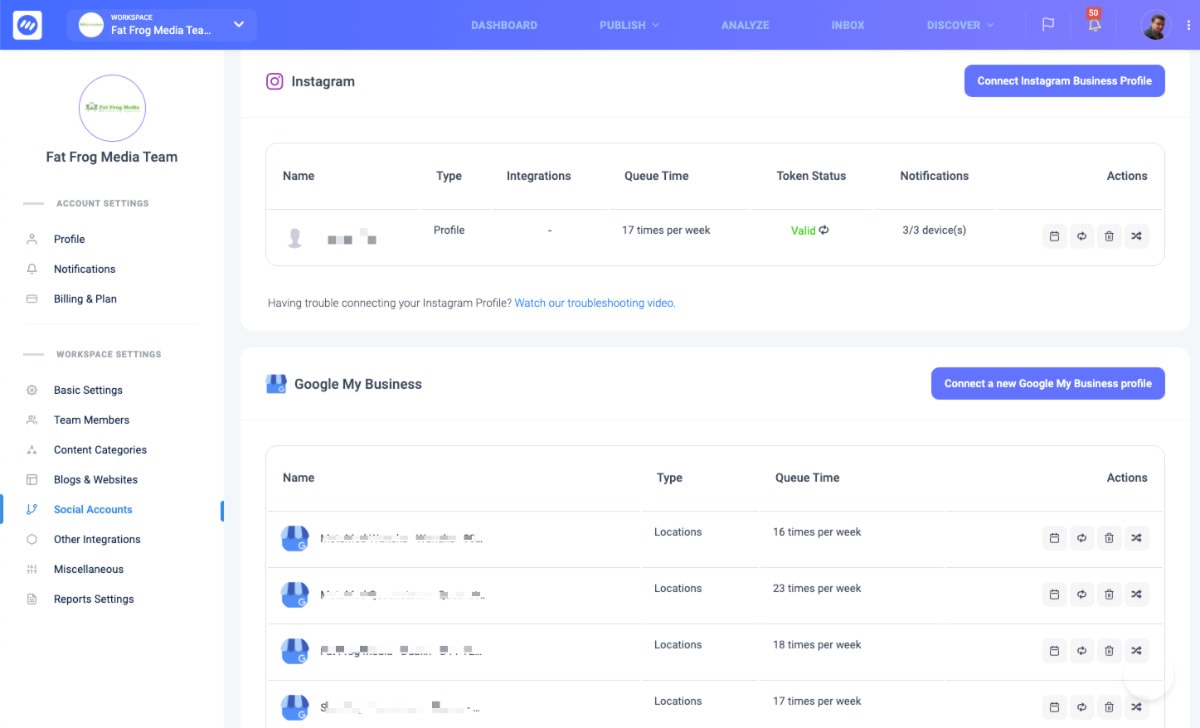 Workspaces
Social media profiles are added to workspaces, which group multiple social accounts from one business or multiple businesses together. This makes scheduling faster and allows for more granular team member access. If you work with clients or you have multiple businesses, it makes sense to add accounts from each business to a workspace.
Integrations
ContentStudio gives you the option to use naked URLs (no shortening or tracking) in social posts. There are built in link shorteners like ContentStudio's own shortened links (Cstu.io), as well as the well-known Bit.ly link shortening service, and Firebase Dynamic Links.
Pocket, an app that lets you save content for offline reading later, is a great tool for content creation and a source of ideas. ContentStudio integrates directly with Pocket so you can automatically schedule articles you save for posting later.
Replug is an app for adding a call-to-action to any link you share. The call-to-action gives readers of the content a chance to connect with your business (via the web or a phone call). Replug's re-targeting pixel feature lets you create Custom Audiences from people that clicked on your shared posts. Great for re-targeting in Facebook ads or Adwords later.
Connect Feedly, a feed reader for curating content, directly into ContentStudio with a single click. You can then add new content picked up by the source directly into your content marketing plan.
Discover
Content Feed
Search – Find trending content
There are two parts to the Search tab: Content Feeds and Insights. Let's look at Content Feeds first.
This is one of the areas where ContentStudio really shines. The Content Discovery feature is great for finding fresh content and trending topics across multiple platforms quickly. Currently, the searchable platforms or Internet areas are:
Web Articles – Search the web for posts and news items on your target topic or use the 'trending' search for inspiration. Web includes Pinterest, Facebook, and Reddit articles.
Twitter – Discover, share, and retweet tweets that have already gone viral.
You can filter by the most shared, the number of Facebook shares, Reddit shares, and popularity on Pinterest. Change the search dates, the worldwide location and the language to really find laser-targeted topics.
In the Insights tab, you can see some useful statistics for topics based on the number of shares, when the topics get shared (day of the week and yearly trends), sentiment, average engagement on each social network, and popular content types. You can also get insights into the word counts of popular topics. These stats can be very useful when creating a content marketing plan.
Taking this further, you can also find a list of author names and websites that publish the most in whatever topics you are researching. This is great for building content marketing strategies, finding influencers (influencer discovery), and performuing backlink outreach and guest posting.
Feeds – Add Content Sources
You can add keywords or domain names to monitor as sources to appear in the content discovery section. Another great feature is the ability to add RSS feeds to your content sources. And if you like the content produced by certain Facebook pages, add them as sources too so they appear first.
Topics
Follow curated topics or create your own based on keywords or domains. Set up smart filters to only show queries for your targeted topics.
Want to find Facebook Ads content posted on the web in the last week, in the UK, in English, that's also trending, and has lots of Facebook shares? ContentStudio will find it for you.
Looking for the most popular Facebook posts on CrossFit 'by engagement', that also include links, photos, or videos? It takes mere seconds to filter down to relevant content and video marketing content.
Pros: Very easy to find content quickly in many niches with fine granularity. Fast interface and very well presented results.
Cons: Some content can be irrelevant and it almost always requires some tweaking.
Influencer Discovery
Find the perfect influencers for your business on Instagram, Twitter, and YouTube by applying any of the many filters. Discover the people who get the most shares. Find influencers based on engagement, follower count, following count, average interaction, and relevancy. Order accounts by the number of tweets, total pots, total YouTube views, total runtime, subscriber count, and video interaction.
You can also find relevant influencers based on country and language. Select the United States, United Kingdom, or any other English-speaking country if you want to narrow down to a common language. Or just select the relevant language. Save social accounts to lists for better outreach management or analysis.
Use the influencers feature to find highly-relevant people to work with or discover what works for them. Steal their ideas and form a marketing strategy based on verified data.
Publish
Composer – Sharing Content
At the top right of the ContentStudio interface is the Compose button. Click it to open a new page with two options: Blog Post or Social Media Post.
I'm not a fan of the (share to) Blog Post function because I prefer to use WordPress's native interface. But it can be a timesaver if you maintain multiple blogs as you can write and submit posts without logging in and navigating to the New Post area of WordPress. However, the composer offers a few advantages and it's well worth exploring. It's a great option for working with virtual assistants or team members. Give access to the composer without giving access to your WordPress blog. You can then approve and publish content once the post has passed your checks.
The Composer tool is feature-rich, offering the full gamut of formatting options and the ability to drag content and links from topics you searched for.
SEO
Check the SEO score of your post before submitting it by using the 'Check Score' feature at the bottom right of the Composer window.
Use the Assistant to search for content and drag it to the editor for posting or post scheduling. Find images, quotes, links, tweets, and content from Pocket or add your own images, designs, or videos.
Set up tasks to be done or comment on current drafts. See the activities and revision history of the post as you and your team work on it.
Post Preview
There 4 options for posting:
Post Now – Does what it says on the tin. Send that post out into the world right away. Selecting this option (and the Schedule option) gives you the ability to repeat schedule a post with hourly, daily, weekly, and monthly gaps.
Schedule – Add the post to a future time slot. You can also repeat the post schedule.
Queue – Post the update at the next slot determined by the queue. Queue timings are set under Settings (click the arrow beside the circle with your initials at the top right) > Social Accounts > Change Queue Schedule.
Evergreen Queue – Add your post to your Evergreen Campaigns. These campaigns are groups of social media posts that repeat at specific intervals. Great for your cornerstone social media campaigns.
If you'd like to change the content for each platform switch off the Same content for all slider and edit each social media channel's account's post to your heart's content. Great for adding hashtags to Twitter but keeping them out of a Facebook post, for example. Content on Facebook can also be as long as you like.
Below the section where you add the content for posting, you'll find a Preview section, which updates as you enter or edit content. Tabs at the top of the preview window let you switch between social accounts so you get a visual representation of what the post will look like on each platform. Very useful.
Pros: Great for posting across multiple platforms. The evergreen and repeat scheduling options are exceptional. Previewing the content is a better experience than on any competitor app.
Cons: The search facility on the Composer page is basic and doesn't allow for AND or OR operators.
Blog and Social Media Automation
Click the Automation link in the sidebar to get to the Automation Recipes section. This is one of the most powerful areas of ContentStudio. There are five types of automation options.
Article Links to Social Media
For curating quality content and social media posting on autopilot, nothing beats this feature. It works like this:
Create a campaign and add the social media profiles to post to.
Load keywords from topics you have already created in the Content Discovery section. Or you can add phrases or words to the "Include Keywords" section.
Include domains if you want to narrow the focus
Exclude keywords that won't work for the campaign.
Exclude domains if you want to avoid content from these sources.
Choose from some very granular selection options such as post length, post region, language, age, and social engagement. These options can help create a laser-focused campaign.
Add hashtags.
As you add or remove these filtering options, a preview window opens up to the right showing you how your posts might look. The ContentStudio guys thought of everything here. This is a super useful feature and takes the guesswork out of your campaigns.
The next step lets you schedule posts on a Recurring, Queue, or Custom base. Schedule on hourly, daily, or weekly intervals.
You can even review posts before they go out, adding that extra security. This could be a task for a VA or someone on your team to make sure nothing untoward gets posted.
RSS Feed to Social Media
Share content from blogs and other channels to social media channels. This is a huge timesaver for websites that publish content on a regular basis. Just hit publish on WordPress and let ContentStudio publish the social posts.
Articles to Blog
Post articles on your WordPress, Tumblr, or Medium blog. Tick the 'enable social sharing' to auto-post to social channels for each blog post that goes out.
The options for filtering and posting are the same as with the Article Links to Social Media automation so I won't go into it here. It's enough to say that if you want to post regular content to your blog this is a great way to do it. It's hard to see a real need for this as it won't create that much value for your customers and adds duplicate-type content to your website.
Bulk Uploader
Many marketers keep their social media posts in a Google spreadsheet for reuse. If you're not already doing this, it's easy enough to set up and can make adding content an absolute breeze. It also takes the pain out of moving social media automation platforms.
A neat way to automate adding your social posts to a spreadsheet or CSV file is to use a service like Zapier or Make (formerly Integromat)
Once you've got a few posts in the correct format in your CSV file, upload the file to ContentStudio and let the magic begin.
Evergreen
Here's how the evergreen post scheduling works:
Create a campaign and add your social accounts like with the other automation recipes.
Select your schedule and interval settings.
Add images, links, videos, text, or anything else you like to a 'content slot' and click the 'Add' button. You'll need at least two posts for an Evergreen campaign. You can also add Replug CTAs too.
After you've saved the campaign, it will run on your schedule for as long as you like. A real set-and-forget system similar to Meet Edgar, but at a fraction of the price.
Planner
The planner is where all upcoming, published, under review, rejected, failed, and missed review posts are shown in either list view or calendar view. Switch between views to better view your posts or edit them in the list.
Filter posts by the following statuses:
Scheduled, Published, Failed, Rejected, Under review, Missed Review, Draft.
If you work with a team, the Assigned To and Created By filters help you find what you're looking for. You can also create labels and filter by Composer Campaigns and content categories.
And if that wasn't enough, select only repeat, video automation, article automation, evergreen, RSS, CSV automation, and queued posts. The possibilities are almost endless.
Analyze
Think of this area as the social media analytics reports hub for your businesses, workspaces, and social media accounts. Get an overview of engagement across all social accounts or look at individual accounts. Drilling down gives you a good idea of what kind of content strategy will work best for your Facebook page, Twitter account, Linkedin profile, Pinterest, or Instagram account.
Use the social media analytics reports to discover the best posting times and changes in 'fan' engagement. Easily see which posts are getting the most attention and what other metrics matter. If you want to see how your Facebook page or a competitor's Facebook page is doing, this is a good place to start.
Create scheduled reports or provide analytics reporting on social media channels for clients or your team.
The new Instagram Competitor Analytics tool gives you information about competitors followers, engagement rates, post types, and other pertinent information. By analyzing competitors social media activity, you can gain a deeper understanding of their strengths and weaknesses.
Clicking on a hashtag reveals which competitors are using it and the number of posts they have made, providing valuable insights.
The newly redesigned dashboard is user-friendly and can retrieve competitor data within 60 seconds, ensuring seamless integration. This time-efficient feature allows brands to develop more targeted and effective growth strategies, making the Instagram Competitor Analytics tool a noteworthy innovation in the realm of social media marketing.
Inbox
A few companies have built businesses around consolidating the message streams and contact channels of social media channels. ContentStudio gives you this feature inside the dashboard. The Inbox feature is a real-time saver and a great way to manage, evaluate, and respond to people and businesses that interact with your businesses.
You can do a lot here.
Reply directly to messages
Tag accounts for sorting
View and edit details about the user directly in the Inbox
Assign messages to team members or another workspace user
Provide customer support all in one place
Language Support
Non-English speakers rejoice! ContentStudio works in French, Dutch, German, Spanish, Turkish, Polish, Italian, Portuguese, Swedish, Albanian, Danish, Serbian, Hungarian, Russian, Indonesian, Thai, and Hindi. Plenty to choose from, including some lesser targeted languages.
Add RSS feeds and search for content in Discovery mode in any of these languages.
Help, Notifications, and Advice
What I love about ContentStudio are the small features that guide you as you build your social media marketing strategy. The top right of the screen is where you'll find the Latest Changes and Notifications feeds.
The Latest Changes area is great for discovering what the developers have built. You might find some new features to use. The ContentStudio team updates this on a regular basis.
The Notifications section alerts you when, for example, an automation campaign doesn't have enough posts lined up. The recommendation might be to add more keywords or change your strategy.
At the bottom left of the screen, you'll find the Help area. There's a Guided Tour for newbies or anyone that needs a refresher.
Help Desk is for firing questions at the team. You can also use the chat that appears at the bottom right. The support team is responsive and helpful.
Knowledge Base brings you to ContentStudio's documentation which covers most things.
Public Roadmap helps you keep up with new developments. I love this part.
System Status shows the current state of the platform. Useful to check if something seems like it's not working.
What Else Do You Get With ContentStudio?
A Chrome Extension that helps curate content and share directly from your browser.
An IOS and Android App
For small business or agency plan owners the White Label option is a great feature.
Great support from a highly-engaged team that is constantly improving and listening to user feedback
Should you buy it? It's a great Buffer or Hootsuite alternative and offers a lot more than either of these tools. If you're looking for a Buzzsumo alternative, the results from the content curation tool might be just what you need. Both tools provide slightly different types of relevant content but ContentStudio offers a lot of features that Buzzsumo has, but at at much nicer price. And there's a money-back guarantee on new plans. So you've nothing to lose by trying it out.
If you're looking for a way to schedule content on multiple social media accounts, boost your content marketing output, curate great content from around the world and do it all in a solid platform with an easy-to-use interface, ContentStudio is a great choice. We use it daily and have been doing so for over 2 years. It's definitely a true "content studio"
ContentStudio alternatives
Vista Social includes features for content publishing, engagement, account analytics, social listening, and review management. And like ContentStudio, it now offers a ChatGPT-powered AI writing assistant that can generate and paraphrase content. Another nice touch is the ability to add fact-checked stats. You can also save a lot of time by harnessing AI to automate responses to comments and mentions.
Sprout Social is one of the original social media management platforms. Its been around for ages and has a solid, loyal fanbase. It's also a very mature product with a lot of unique features and integrations (Reddit, Hubspot, Microsoft Dynamics 365, Salesforce, Shopify, Tripadvisor, and more). You also get social listening, CRM and lead gen management, review management, and works seamlessly with Google Analytics for better reporting.
While Later doesn't offer the content discovery features of ContentStudio, it is a powerful tool for planning, analyzing, and publishing your content in advance. It's very popular and has built a loyal following of fans in the many years it's been around.
Social Pilot has been a trusted name in the industry for many years and has a large and loyal following. It's a powerful platform with a wide range of features and is very stable and easy to use.
OneUp's features include:
Schedule Twitter Threads.
Automate Posts via RSS
Canva Integration
unique features:
Hashtag generator
Schedule multi-image posts
This tool has many of the same features that ContentStudio offers. But you might choose this based on user interface considerations (very important when you spend a lot of time in the app). Pricing is another consideration. OneUp's free plan allows for 2 social media profiles. The starter plan costs $18 a month but allows for up to 150 scheduled posts and a lot more besides.
Socialbee works with Facebook, Twitter, LinkedIn, Instagram, Pinterest, Google My Business, TikTok, and YouTube. It also integrates with Canva, Unsplash, and GIPHY so you can design posts without having to leave the platform. The generative AI tools are also appealing to social media managers looking to automate some of their workload. Create high-converting social content with AI from simple or detailed prompts.
While both products are priced similarly, ContentStudio is easier to use and offers more features. On the other hand, Hootsuite offers phone support and training. So while these help and accessibility features with Hootsuite are better for beginners and non-technical people, ContentStudio's interface is easier to navigate and its tools are more intuitive.
ContentStudio offers 10 social accounts for $39 while Buffer's pricing starts at $5 per social account (paid annually) so ContentStudio is cheaper for social media managers with more than a handful of accounts.
Buffer offers a free plan and Instagram direct scheduling. ContentStudio has Instagram scheduling via Zapier. ContentStudio can connect to more platforms including YoUTube and Google My Business.
Why You Need a Social Media Management Tool
The easy answer is to save time, resources, and money. Let software take care of time-consuming social media marketing so you can get on with more important things.
Of course, your entire social media strategy should not have a hands-off approach. Appearing impersonal and robotic to your fans and clients won't make them warm and fuzzy about your business. Interaction with customers, fans, and even haters on Facebook, Twitter, Instagram and the other platforms is crucial.
That said, automating regular tasks like content curation and retweeting can save lots of time and doesn't have to appear impersonal or spammy. Scheduling posts and tweets about your new blog posts, special offers, and discounts can benefit your customers and fans.
How to Use a Social Media Marketing Tool
First of all, nobody likes to be bombarded with the same content over and over. Spam lives and breathes on social just as much as on email channels. Getting noticed on social media is hard, but there's a fine line between posting too much and not posting enough. Test, evaluate, and adjust. This is the key to successful social scheduling and automation.
Don't post on Facebook every 2 minutes. This not only annoys people but sends a signal to the Facebook algorithm that your content is of low value (low interaction means low quality = less exposure).
Use the scheduling capabilities of an intelligent social media marketing automation platform to post regularly without being intrusive. Vary posting times. Vary the content. Change the headlines and hashtags. Setting all of this 'natural-looking' posting schedule can take time on some platforms. This is where ContentStudio shines.