If you're looking to connect with influencers who can help support your marketing campaigns but don't have a large budget, working with micro-influencers may be the right solution for you. Micro-influencers can deliver more value than traditional celebrities or social media stars for a lot less investment, and they can provide greater reach and engagement with your target audience.
These talented creators typically have smaller followings on social media networks than more well-known names, but can still offer considerable value in terms of engagement and reach. Plus, they're often easier to work with, making them a great solution for budget-minded marketers.
As TikTok continues to grow in popularity, businesses are increasingly looking for ways to reach TikTok's key audience demographic, Gen Z. One of the best ways to do this is by working with the large pool of TikTok micro-influencers.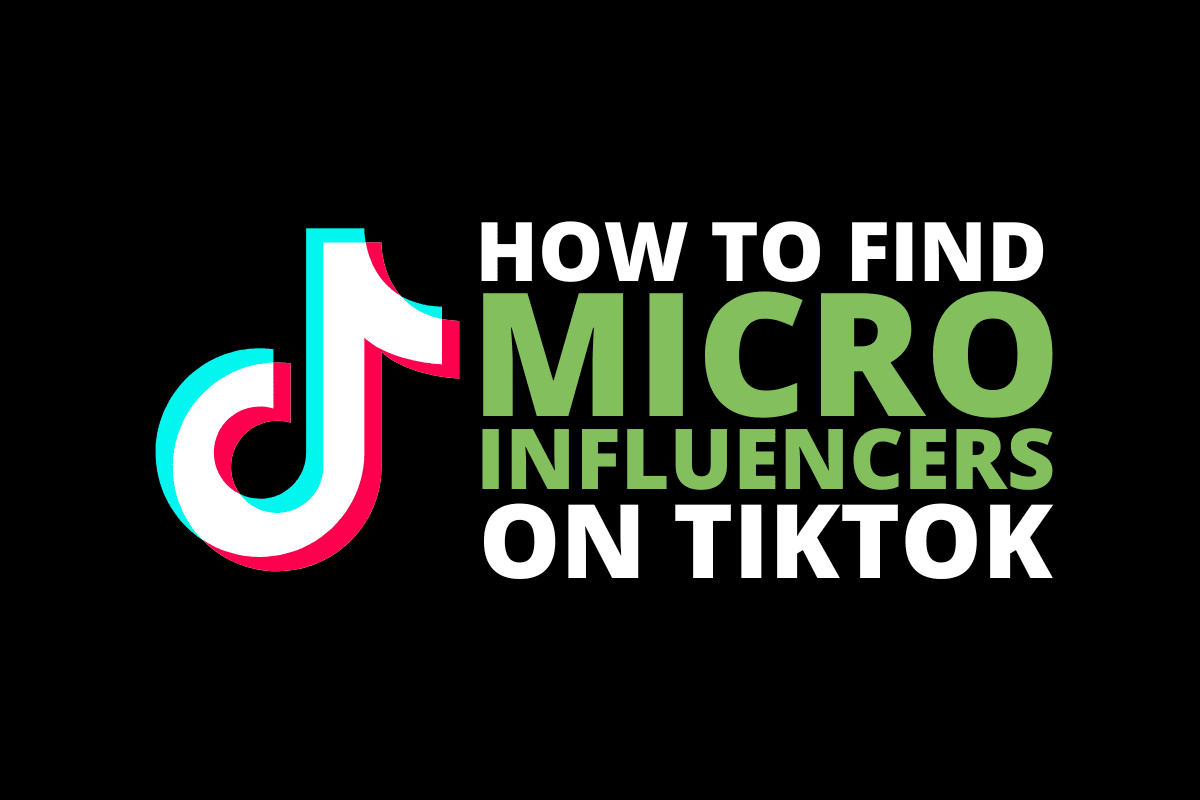 What is a Micro-influencer?
A micro-influencer is someone who has a small social media following and uses their platform to promote brands. Typically, they are social media accounts with 1,000 – 10,000 followers on platforms such as TikTok and Instagram.
The prefix 'micro' refers to the fact that they have a smaller audience than social media stars, but that doesn't mean they're any less influential. In fact, many micro-influencers have a higher level of trustworthiness and relatability than their larger counterparts.
Keep in mind that smaller-scale TikTok creators will generally lack the budget and team of the big players. Thus, you might not be able to get the quality of production you require. This is why it's important to work out these details beforehand.
But the most important thing is to make sure you are familiar with the creator's work and to ask questions. Is the style suitable? Is the quality generally up to the standard you're looking for? Is the price acceptable? What is the background of the creators? Are the creators reliable and experienced?
Micro-influencers are on the rise, and for good reason. Here's why they might be even better than social media users with large followings:
1. They have more engaged audiences. Micro-influencers typically have smaller, but more engaged audiences. This means that their followers are more likely to see and pay attention to their posts.
2. They're more relatable. With a smaller follower base, TikTok micro-influencers are often more relatable than mega influencers. The small audience size can help followers feel like they're part of a community, rather than just a number.
Tools for finding micro-influencers on TikTok
It seems like everyone wants to be famous on TikTok, but there's a limited supply of view time per person. Attention matters and people with huge audiences command a lot of money for sponsored posts, brand awareness content, and brand promotion posts. The key to getting in front of a hyper niche audience is to find TikTok accounts with hyper-engaged audiences.
As you explore these tools for finding micro-influencers on TikTok, consider using specific search criteria or keywords related to your niche, such as "fitness influencers," to identify creators who are already producing content that aligns with your brand and target audience.
You could spend your time checking the Discover tab, crawling through hashtags, and endless searching for keywords, to find relevant influencers. Or you could use a professional tool or platform that specifically helps brands and marketers find the right people for their projects.
Collabstr is a platform that makes it easy to find and hire micro-influencers who can create unique content for your brand on TikTok, Instagram, and YouTube.
Content creators go through a vetting process to ensure that they have the skills to provide high-quality, professional branded content to users of the platform. Whether it's short-form videos for Instagram, YouTube, Instagram reels, or TikTok viral videos, you can search for and work with potential influencers at scale directly on the platform.
Get $10 off your first order on Collabstr
There's no upfront cost, so you can start working with your ideal influencer right away. When a job is agreed upon, the platform holds your payment until the work is completed, so you can be sure you're getting what you paid for.
Companies like Hopper and the United Nations have used Collabstr to find new talent to work with so you probably will too.
Features
Offers managed campaigns
The platform performs full audits of candidates before publishing in the database
Custom offers accepted
Low starting prices for talent.
Exolyt is an app that helps you find TikTok influencers thanks to powerful research tools that do all of the heavy lifting. Track and measure profile progress, follower count, engagement rates, video views, and comments.
Find influencers in your area, in your language, in your hyper-specific niche, and much more by tailoring your search to match your preferences.
Take advantage of Exolyt's social listening features by tracking hashtags or topics in your niche and see which influencers perform best. Do a deep-dive analysis of performance week-to-week and compare accounts.
Currently, HypeAuditor has a database of around 70 million influencers, one of the most comprehensive in the industry. With so many TikTok influencers to choose from, finding the right one for your brand is considerably easier than with smaller platforms. Narrowing your search with the tool's powerful built-in filters allows you to find an influencer that matches your needs.
Explore influencers by using filters and review their profiles to see which ones would be the best fit.
Find people who create content in your specific niche by searching for hashtags related to your industry on Hypeauditor. You can also check their growth statistics (the amount of engagement they receive) and "quality" followers. To get a full picture of someone's relationship with brands, track how often they mention brands and post branded content.
Once you've found a few people you'd like to connect with, you can add them to a campaign.
Then you can begin reaching out directly on the Hypeauditor platform. A sophisticated outreach tool provides you with the capability of creating personalized emails, automating outreach tasks, and finding contact information automatically
Bonus: you can also search for YouTube and Instagram accounts matching your specific criteria. This is an essential tool for any influencer campaign you are planning.
Features
Analytics on TikTok, Instagram, Twitch, YouTube, and Twitter profiles.
Detailed competitor and industry analysis tools
Highly effective outreach platform
With Tokfluence, you can search through over 10 million TikTok accounts using a variety of criteria, making it easy to find TikTok influencers who are a good fit for your campaign. You can also filter and analyze influencers to get a better sense of their audience and how they might be able to help you reach your goals. Plus, Tokfluence makes it easy to run successful influence marketing campaigns.
Tokfluence's audience analysis allows you to do what's called "fake checks" to see if an account has fake followers, meaning they have paid for followers rather than gained them organically. You can also get detailed demographic information analysis to ensure the influencer speaks to your target audience.
Also, if you want to branch out into YouTube and Instagram influencer marketing, Tokfluence offers analysis tools for those social platforms too.
Features
Over 10 million accounts in the database
Over 20 different search criteria
TikTok Marketing campaign management
Detailed reports
Less of a place to do a deep analysis on influencers but a place to quickly find micro-influencers and their rates. Sometimes you just want to get a campaign going as quickly as possible and Shoutcart makes this process a piece of cake.
A key differentiator with Shoutcart is that it can be a place to start testing out influencer campaigns. Prices start at $10 so it appeals to marketers with smaller budgets or brands who want to learn the ropes without investing thousands of dollars.
Track your posts and stats, keep tabs on your budget, and avoid wasting any of it.
It's a great place for an influencer marketing agency to source influencers for any budget or get quick and easy exposure for a brand, launch, or product. You can also run some checks for fake followers to make sure the micro-influencers have genuine audiences.
Filter accounts based on % success or % CPM (cost per thousand). Buy TikTok Duet Posts, and quite a bit more, with Shoutcart. There's also a gig database where you can order services such as Instagram giveaways, viral music sounds, organic account growth, and promotions.
Features
An easy-to-use platform for fast results
Works with TikTok influencers, YouTube channels, and Instagram micro-influencers
Great for brands with low marketing budgets
This TikTok & Instagram influencer database targets brands and marketers who are looking for micro and nano influencers in any niche.
Inbeat offers the usual free (and paid) tools like the Instagram Fake Follower Checker, the TikTok Engagement Calculator, and a Top TikTok Influencers checker.
One interesting feature is called deep search, which unfortunately only works with Instagram at the moment but gives you the ability to enter a word or phrase and search by Hashtag, Mention, Username, or well, plain old Keyword.
You can also exclude keywords and use AND OR operators to fine-tune your search. As well as that you can check your search term in the username, bio, or posts of any account.
When this feature finally arrives on TikTok it will be a very powerful way of finding ultra-niche content creators. I'd expect this to make Inbeat the search tool of choice for small to medium-sized influencer marketing agencies.
To run a TikTok search you first create a list and then choose whether TikTok profiles should be contactable by email or not. Add at least two hashtags.
The results will show 'like average views', total likes, and engagement metrics. Click on a profile to get more details including trend charts that show
Likes per post
Comments per post
There's also a handy collaboration cost estimation number in USD so you can quickly gauge how expensive it will be to work with the content creator for posts and videos.
The free plan lets you view the first 10 profiles of any search.
Pricing starts at $35 per month for 2 concurrent campaigns and 1 client account. Note that the 'deep search' feature is available only on the Agency plan, which costs $200 per month. But for that price, you get much higher limits on everything else.
Inbeat also offers a service they call CreatorStudio. This is a subscription service that provides users with unlimited copyrights to the content, a dedicated campaign strategist, and the ability to get matched with the right creators without doing any outreach. This is a great service for those who want to create campaigns but don't have the time or resources to do so themselves.
Features
Ability to have complete control over the content creation process and deliverables.
Excellent matching algorithm
Economically priced
Performance metrics that are easily understandable and useful
Influencify
Influencify claims to be the #1 platform for performance-based influencer marketing. The site is primarily aimed at eCommerce brands, so if you sell products, this is the place to start.
Find brand-fit influencers – people who are relevant to your product or service and have an audience that matches – for your TikTok, YouTube, and Instagram marketing campaigns
Filter based on location, language, age, gender, and lookalikes (similar TikTokers).
Additionally, you can filter by their bio keywords, follower count, date of last post, number of views, engagement metrics, and whether their following is growing or shrinking.
In addition, you can remove influencers with fake followers (this is crucial).
You should have no trouble finding a perfect influencer match among the 40 million influencers in the database. Analyze any influencers' audience data as well as the combined estimated results they can bring to your campaigns.
Your next step is to create a campaign directly on the platform where you can offer influencers discounts and/or cash as compensation.
Other influencer marketing platforms to try
Other solutions that might be worth a look if you have a larger budget or need to find creators that work in particular niches:
InfluenceGrid offers a free plan that gives you little more than 5 macro influencers based on a keyword you enter. The tool claims to find influencers who match your campaign needs by demographic, geographic, and psychographic criteria. But the results seem pretty generic, and won't be helpful if you're looking for smaller accounts.
The Freelancer plan, which costs $30 per month, gives you unlimited searches, a reporting facility, and the ability to export up to 500 suitable influencers and follower accounts. Higher-priced plans give you more of the above.
Aspire is a platform for ecommerce businesses looking to tap into social media influencer marketing. And this is also reflected in the price This is a tool for agencies or brands with deep pockets. On the other hand, it's easy to connect with the right influencers for your brand deals. A unique feature is the recommendation engine, where you can expand your influencer network easily by finding similar influencers to those you've worked with. note: Aspire used to be called AspireIQ
Kolsquare is another popular tool but pricing can be in the multiple 5-figures a month and they are suitable for ecommerce businesses seeking macro (and mega) influencers. These platforms can handle TikTok micro influencer searches but for most brands the pricing is prohibitive and the tools are overkill. However, if you run an agency and you're looking to scale up your influencer search and you manage hundreds of campaigns at the same time, one of these solutions might be just what you're looking for.
Klear is also another tool aimed at large influencer marketing agencies. Monthly costs start at around $18,000 so it's more suitable for agencies pursuing larger influencers.
Creator.co's target audience appears to be creators and brands in the NFT space who also work with ecommerce brands.