Have you been struggling to grow your Twitter following? Finding it hard to write the right tweet? Do you struggle to manage your contacts on the platform?
There's no doubt that 'hacking' the Twitter algorithm isn't straightforward and unless you're famous, it can be a slow road to an extensive list of engaged followers. The newest batch of Twitter growth tools are practical, help you be more efficient, and even have a bit of fun involved. Who said growing your Twitter account couldn't be fun?
With the right Twitter tool, automation on this ever-popular social media platform can be straightforward.
Twitter's popularity has surged in recent years as brands, business owners, and marketers discover its potential as a marketing platform. But it's crucial to use Twitter effectively from the beginning. To be successful on Twitter, you need real, targeted, and engaged followers.
US youth are increasing their use of Twitter, according to MarketingCharts. It seems like the least cool social media channel is becoming more popular with younger audiences again.
This chart by Statista shows that the main reasons people use Twitter are to be entertained and to stay informed. If you want your audience (and potential audiences) to comprise quality followers, provide them with entertaining and informative content on the platform. Retweeting articles from newspapers or posting links to your website's content will not help you grow your following. You need to be smart about it. Or you need a smart set of Twitter automation tools that help you achieve your goals.
Social listening, scheduling tweets and threads, account management, and curated mention feeds
SocialDog is the marketing tool that'll keep your Twitter account barking. By simplifying your operations, increasing efficiency, and increasing engagement, SocialDog helps you achieve your goals.
I'm a big fan of Social Dog. This tool reminds me of some of the earlier Twitter growth tools, but Social Dog has a fresh look and a lot to offer in terms of features.
The website claims that almost a million Twitter accounts use the tool.
These are just a few of the features that are most useful:
Social listening – get summarized versions of tweets that mention your brand.
Schedule Tweets – while pretty much every other social media tool offers tweet scheduling, you can also schedule retweets and Twitter threads with Social Dog.
Account management – allow your staff or colleagues to access and manage your account.
The Inbox is a convenient central place to work on your profile. Here you will see a feed of tweets based on your criteria (hashtags, phrases, Twitter profiles) but every post is embedded in a container that also shows the Twitter user's follower count and the number of tweets. You can choose to follow or interact with these accounts.
One outstanding feature is the ability to track keywords mentioned in tweets. Now, there are many tools that perform the same task. But somehow, Social Dog does not deliver an immense pile of irrelevant tweets (unlike many other services). It appears to be curated and your 'mention' feed will contain quality tweets from real users. This alone is worth the admission price.
You also get detailed analytics and updates on Twitter followers, the most popular tweets, the most active users, and more.
A couple of features I really like are:
1. Notifications of people that unfollow you – there are many tools out there that offer this service, but most are spammy and hard to use. DataDog makes unfollowing accounts that recently unfollowed you a piece of cake.
2. A list of inactive accounts – you can view accounts that have not tweeted in the past 30 days and remove inactive users. This helps to weed out the fake accounts or accounts that will never engage with your content.
Click unfollow beside any account name to stop following them immediately.
Typefully amps up your Twitter game to level 11. Effortlessly craft engaging threads to grab all the eyeballs with the help of AI suggestions and a toolkit of content creation features, including copywriting via AI-powered generative content.
Analyze your Twitter growth and discover your best tweeting times with detailed and comprehensive analytics.
Boost your Twitter growth with Typefully's advanced tools, like automatic retweets and follow-up tweets for your best-performing content.
In my experience with these Twitter growth hacking tools, Typefully has stolen the show for the ease of scheduling tweets and creating Twitter threads. The minimalist interface really helps but it's just a matter of clicking and pasting in most cases. Get suggestions, rewrite your tweets, make them punchier, condense wordy tweets or expand into a thread. It's really quite intuitive.
Need to fix grammar, tweak layouts, or brainstorm? Just ask the AI.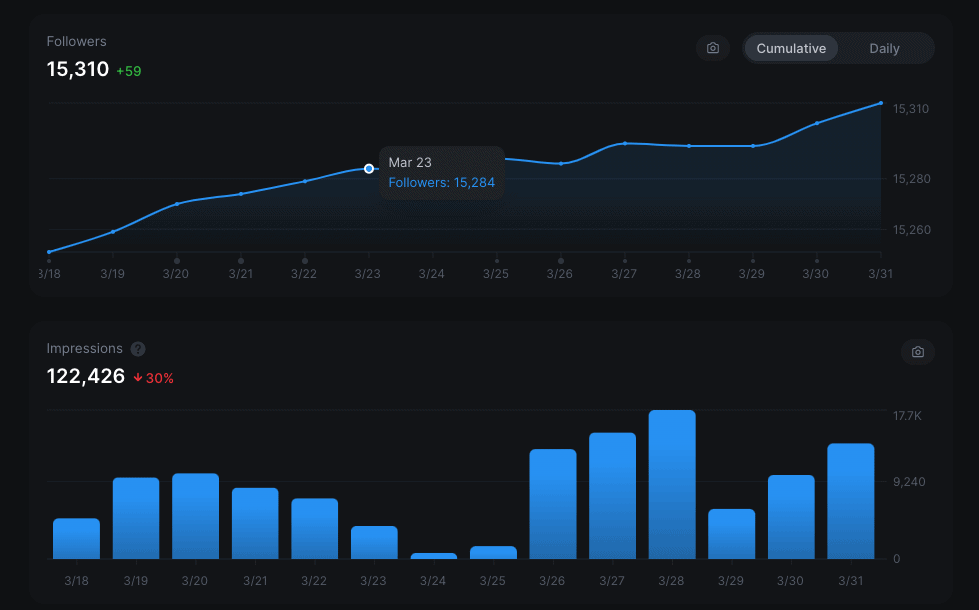 Typefully has incorporated AI prompts into the platform better than all of its competitors, so if this is something you're looking for, sign up for a free trial. Even that part is seamless – no credit card required and you'll be using the platform after a couple of clicks.
This is how software should work.
Efficient Twitter scheduling made easy – unique multi-platform support.
Hypefury is a cloud-based Twitter post scheduling tool that enables businesses to create custom content and schedule posts for automatic publishing on Twitter. It is popular among Twitter users who want to grow and monetize their audience.
One thing to know about HypeFury is that most of the key features are included in the free plan. And there's a lot of cool stuff in this plan.
Paid subscriptions include features like delay threaded tweets, automatic reposting of your most engaging tweets, schedule retweets of other people's accounts, statistics, autopilot Gumroad sales, and CSV upload.
Where HypeFury differs from the other Twitter tools in this roundup is the additional support for other social media platforms like Instagram, Facebook pages, Linkedin, and…em, OnlyFans!
Uploading thousands of pre-written tweets via CSV file for scheduled publish dates is clearly a massive timesaver. Another tool I've reviewed here called ContentStudio does the same thing.
Once you open up Hypefury for the first time, you'll select categories of interest. There will undoubtedly be some overused topics in the Twittersphere: Unpopular opinions (they never are), Web3, Crypto, #buildinpublic, and self-improvement. Basically, a roll call of what every techie or marketer ever talks about on the platform.
There's a handy, full-screen focus mode for writing epic tweets without distractions.
Every 'compose' window has a tool for generating quotes, and adding GIFs, images, and Emojis. Creating threads is much easier here than in the native Twitter app.
If you want to cross-post to Instagram and Linkedin, you can have auto-generated images of your tweets posted to the other social platforms. And you can post to multiple Twitter accounts with the Standard and Premium plans.
A few things I like about this tool:
The interface is clean, uncluttered, and intuitive. It's also quite fast so you're never left waiting for elements to load.
A feature that posts automatic follow-up tweets based on any tweet's performance could be a game changer for people looking to attract leads or sell products. You can also create time-based sales tweet schedules to generate interest in your sale right up until the cart closing time.
If you're trying to build rapport with another account, you can add their usernames to a watch list for more targeted interactions.
Connect your Gumroad account to help you make more sales.
HypeFury integrates with BlackMagic to give you superpowers.
HypeFury's developer is very active in social media and produces email content worth reading. He built a Discord community where you can ask for advice on everything related to Twitter growth. It's free to join.
Powerful AI-generated tweets and a unique daily-refresh feature built into an efficient growth tool
This is a fantastic app for Twitter power users. Not that the other tools aren't effective, but Tweet Hunter is very powerful. And as someone once said, "with great power comes great responsibility". You can really go nuts with these tools and it's easy to see how you could destroy both your Twitter account reputation and your personal reputation if you let AI take over and automation be your voice.
Use the tool like you would any other resource. This is a useful resource, not a magic bullet.
Tweet hunter's unique features include automatically generated AI tweets that are pretty darn good. Every day you get new ones that you can click to tweet or schedule.
If you add up all the time you might spend researching, planning, and writing tweets, Tweet Hunter will pay for itself in a day.
AI-powered content scheduler and discovery tool, featuring time-saving AI caption and image generators
I've been using ContentStudio for years as a social media scheduler and social media management tool, content discovery tool, and general productivity suite for all things social.
Schedule tweets: ensure a steady flow of content and keeps your followers engaged.
Find content to share: discover and curate relevant content from multiple sources, including blogs, news sites, and social media.
Analyze performance: track the performance of your tweets and see what content is most effective.
Monitor mentions: monitor your Twitter mentions and respond to them to improve pretty much every engagement aspect.
Recently the team released two really nice features: The AI caption generator and the AI image generator. Both are massive time saving features that you will love.
The options include improving inputted content to make it more interesting, summarizing text or key points from a URL, creating a pros and cons list, rewriting content in a different way, generating engaging captions for social media posts or Instagram, creating retweetable content for Twitter, producing inspirational quotes, and expanding on existing content.
The AI caption generator turns your webpages, blogs, and help documents into multiple, unique, and engaging social captions. Save oodles of time by turning website content into bite-sized social posts that deliver the crux of your long-form content. Set up the system once, then sit back while it works its magic on auto-posting mode. The generated captions are designed to fit seamlessly with other types of content too, like blog posts or video captions.
Plan, publish and analyze your content, get AI suggestions, and build your Twitter presence with threads that turn heads.
Plan, publish, track, and analyze your Twitter content – all in one neat, easily manageable dashboard. You can use Postwise's own Twitter analytics tool to get to know your true audience and optimize your strategy for max clicks and top level engagement. Whether you're a solo entrepreneur or a multinational conglomerate, Postwise can help you take control of your Twitter account.
The "Postwise AI" section is great for getting ideas and suggestions for tweets based on your previous tweets. Just select, edit, and schedule the content you deem worthy and you've got you're heading in the right direction in terms of increased engagement. ther'es also a section for inspiration, to see what's trending on Twitter. Feel free to hijack/edit/repurpose these messages to suit your industry.
The feature that gets the most attention, at least when I'm using it, is the first option in the list, the AI writer. Enter some keywords and get relevant and customized tweet content in an instant. A nice touch is the Twitter thread option for longer trains of thought. There's a lot of power in this deceptively simple interface. I like it a lot. Plans start at $29 a month.
Track your performance, manage engagements, and schedule tweets with inspirational ideas for ultimate growth-hacking.
Use BlackMagic to grow your audience and communicate better. Track your followers, engagements, effectiveness, etc. Manage engagements at scale. Get tweet inspirations every day. Organize your tweets into categories. Draft, Schedule, Publish, Engage.
Black Magic helps you tweet inspirational messages every day on autopilot. Organize your tweets into categories and draft, schedule, publish, and engage in ways that you can't on the Twitter app.
Monitor the performance of your tweets over time, so you can discover why some tweets explode in popularity.
– Monitor the number of new followers and engagements. Keep on top of Twitter analytics like the most engaging hours, top interactions, profile clicks, top tweets, impressions, and more, all displayed in a visually appealing web dashboard.
– Every day, get ideas for tweets based on what's trending.
– Search for responses quickly and easily, so you can respond immediately to engagement from followers or strangers. (No more missing out!)
– Set up recurring reminders that will help you stay in touch with the people you care about. (No more forgetting!)
Using BlackMagic, you'll be able to monitor the effectiveness of your tweets over time, discover why a tweet goes viral, and get a better understanding of your target audience. To top it all off, BlackMagic also serves as your own Twitter customer relationship management (CRM) tool.
BlackMagic is free to use with limited capabilities. The Personal plan costs $9.99 a month and gives you most of the features you'd need. Pro Twitter users might want to opt for the Professional plan at $19.99 per month.
Tweepi
Engage with your target audience, curate top-performing content, and boost conversions without resorting to spam tactics.
Tweepi's unique combination of artificial intelligence and brand promotion helps boost your Twitter account's audience engagement and gets you more followers.
Tweepi is well-known in the Twitter growth space and is used by hundreds of thousands of brands (SocialMediaToday, GigaOM, Forbes, and Yahoo News), influencers, and Twitter prodigies.
The claims are impressive: Increase your Twitter account fans by up to 100 new followers a day, all thanks to artificial intelligence tech. In reality, the tool uses Twitter's API to scan your followers' follower list, clean up inactive users, and present you with plenty of actionable analytics advice.
The tool gives recommendations to maximize your Twitter account growth, filtering users by engagement probability across various actions – reply, follow, like and retweet. It also unfollows inactive users for you.
The AI-driven insights provide you with detailed analysis of your followers' social value.
It sorts users into categories based on their level of engagement with your content, offering the most engaging ones to you first.
Unlock valuable insights on your Twitter audience and grow your user base
Enter a keyword into the search bar and SparkToro will search its database of people that talk about your keyword. Now, it's not clear what "talk about" means, but let's just presume it means these people regularly use the word or phrase in their tweets.
This isn't rocket science.
This tool shows you what topics these people also discuss. If this hasn't turned on a lightbulb, ask someone to check for signs of life.
You get their frequently used phrases, hashtags, and bio phrases.
While that would be plenty of information to start thinking about building new marketing campaigns or content, it doesn't end there.
SparkToro also shows you the social accounts this cohort or demographic interacts with, websites they visit most, and niche/high-engagement social media accounts too.
Then there's the demographic info and text insights. All in all, it's a complete picture of Twitter users to help you find, engage, and grow your user base.
Much of the functionality of this Twitter growth hacking tool is free. However, if you want even juicier data on followers, like their favorite podcasts and YouTube channels, or which press accounts they read, you'll need a subscription plan. The Basic plan is pricey at $38 a month, so it might be strictly for Twitter power users and agencies. But if that's you, give it a whirl!
Frequently Asked Questions
What is importance of understanding your target audience when starting a Twitter growth campaign?
To successfully use Twitter growth tools, it is essential for businesses to understand their target audience. Knowing the demographics, interests, and motivations of their audience enables businesses to tailor their tweets and interactions to capture attention and drive engagement. This, in turn, helps them optimize their marketing efforts for maximum impact and measure success more effectively.
A friendly tone when addressing followers, as well as a consistent voice, helps build relationships and trust between businesses and their audience, while still maintaining professionalism. By understanding their target audience, businesses can create a more effective strategy that resonates with users and encourages engagement – and in the end, this is what results in more growth.
What are the risks and downsides of using automation or other growth tactics on Twitter?
We all want to grow our Twitter accounts as quickly and efficiently as possible. But before you hit the "automate" button, consider the potential risks and downsides associated with these tools. For starters, using bots and other spammy tactics can lead to account suspension or termination, which can seriously damage your brand's reputation. Plus, users can spot inauthentic behavior a mile away and are more likely to engage with accounts that show genuine interest in their needs and preferences.
Sure, buying followers might seem like a quick and easy solution, but these followers are often fake accounts or bots that provide no real engagement or value. And while automation can save time, it can also undermine your efforts to build authentic relationships with your audience. Remember, people want to connect with people, not with machines.
So, while automation and growth tactics can be effective tools, it's important to approach them with caution and focus on building genuine connections with your followers.
What part does influencer marketing, partnerships, and collaborations in growing a Twitter following?
By using Twitter influencers and partnering with popular social media influencers, brands can expand their reach and gain more followers.
Collaborating with influencers not only allows you to tap into their existing fan base, but also raises the credibility of your brand. An authority status can help increase visibility and reach. But before you start sliding into DMs, it's important to do your homework. You want to find influencers who are a good fit for your brand and can help you reach your target audience. For example, if you're selling vegan protein powder, you probably don't want to partner with a steakhouse influencer (unless you're going for the "opposites attract" angle).
Using influencers to grow your Twitter following can be a great 'hack' to increase engagement and drive traffic.
How to optimize hashtags and keywords for Twitter profile growth?
When I'm involved in campaigns or events, I make sure to include relevant keywords and hashtags in my bio. This helps me optimize my content and get more engagement from other social media users. Additionally, it's important to know that Twitter may favour keywords over hashtags when it comes to ranking content. While this is a bit of a switch, it's worth considering when optimizing your profile for growth.
Make sure your hashtags and keywords are always relevant to the content you're posting and update them regularly to keep up with the latest trends
And always track your results using the growth tools you choose to work with. By monitoring your engagement and follower growth on tweets that use certain hashtags or keywords, you can see what's working and what's not and adjust your strategy accordingly.