Listening to podcasts has been really helpful in our development as entrepreneurs. Podcasts are a superb resource for learning. And many other bloggers and business owners feel the same. In the last few years, this form of content has been a great source of learning, inspiration and entertainment for many people and its popularity is growing. In this post, I share the best podcasts for business owners, entrepreneurs, and bloggers will entertain and inspire you to build better businesses online.
SEO, marketing, and the techniques for building businesses change every year and 2018 is no different. In fact, 2018 will probably see more changes in the way content is created and how entrepreneurs build products and services. Why? Because competition is tougher. Google's algorithm is getting smarter and more selective, and investors are becoming wary of startups with no revenue-generating ability.
So to keep ahead of these changes it's important to listen to the experts. I've selected my favourite podcasters based on their ability to deliver value to entrepreneurs. If you're interested in entrepreneurship then these are podcasts you should listen to.
But first, What is a podcast?
Most people reading this blog will have some idea of what a Podcast is but here's a refresher and some interesting statistics.
The word podcast is a mix of the words iPod and Broadcasting. Podcasts were originally MP3 files of audio shows (think interviews or monologues) that people listened to on their iPods. As the technology became more advanced and people started to listen to audio shows on other devices and other formats the word Podcast came to be a term to describe any long-form audio show that you can download and listen to on a device.
There are now regular shows on any topics you can think of any many people prefer listening to Podcasts over reading magazines or newspapers. Somewhere between 150,000 and 200,000 podcasts are currently active in English. Podcast subscriptions passed the 1 billion mark back in 2013 and popularity has only increased since then.
If we take Google Trends as an indicator then podcasts with a focus on entrepreneurship are growing in popularity at an even greater rate. The keyword 'Entrepreneur Podcast' has increased steadily in the last couple of years.
And finally, the term 'podcasts for entrepreneurs' is a long-tail keyword so it will naturally have fewer searches but it is growing steadily now also.
According to the PEW Research Center, the percentage of Americans listening to Podcasts has doubled since 2008 and one third of the entire population has listened to a podcast at some stage.
Podcasts are big business. John Lee Dumas of EOfire.com puts his income online every month. Reading these income reports I get a clear view of the potential of shows for entrepreneurs and business people. In February 2016 his site earned just under $600,000. That's impressive for a business that drives all of its sales from the shows he records at a breakneck pace. His secret is consistency and smart business tactics. For many years he has produced a podcast every single day and his audience of entrepreneurs, digital nomads, and niche business owners listen in their thousands.
Podcasts for Entrepreneurs – The List
This is a personal list so it's not the definitive 'best of', but then every list is a personalised opinion in some form or another. However, I'm an entrepreneur, blogger, and a big consumer of podcasts so I'd consider my opinion on this topic to be well informed. At any rate, if you're new to this particular broadcast medium or you want to find some new shows to listen to, try the podcasts below and expand your own list from there.
Amy Porterfield presents one of the best podcasts in the podcasting world. In any niche. If you want to learn how to run your own course, create webinars, build a profitable business, or market your online business, this podcast is pure gold.
Amy is an excellent presenter and delivers tons of value in every episode. She interviews some of the biggest names in internet marketing such as Pat Flynn, Marie Forleo, and Andrew Warner. A great podcast for beginners and advanced entrepreneurs and marketers.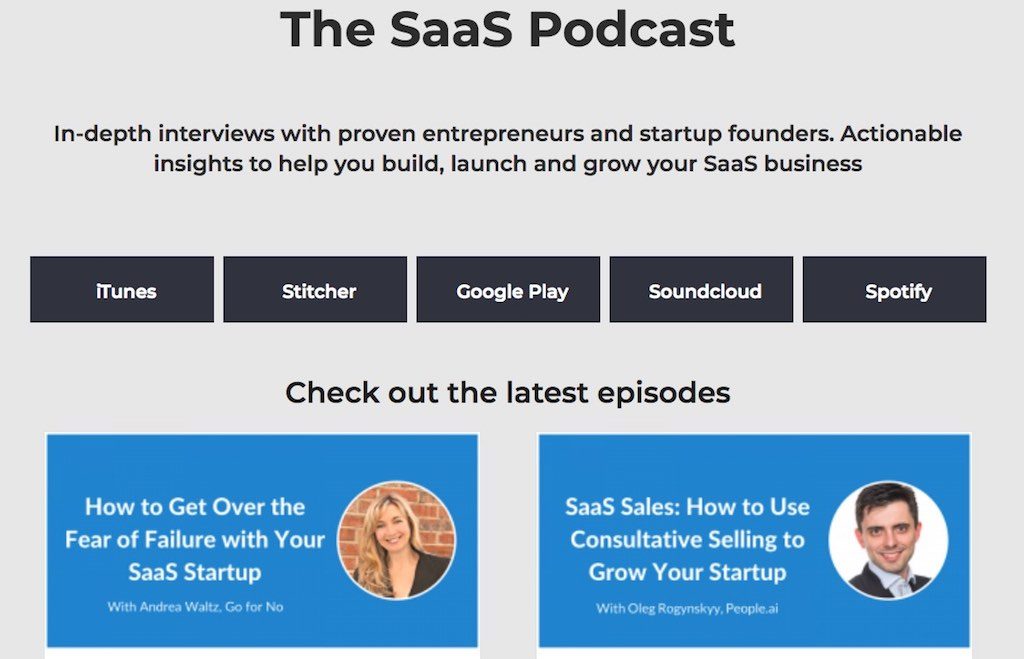 Although the focus is on software entrepreneurs this excellent podcast is a must for any entrepreneur. The show provides great insights into marketing and content strategies for businesses of any type. Created by ex-Microsoft employee Omer Khan, The SaaS Podcast's focus in on interviewing software entrepreneurs about their challenges and triumphs.
Don't be put off by the topic if you're not interested in software. Most of the interviews are about entrepreneur struggles, marketing, growth, market-fit, content, blogging, and other 'non-techie' aspects of starting a software business. Nobody talks code on this show, so it's a good place for any entrepreneur to find inspiration for their next project or current startup.
My favourite podcast of them all. The SPI podcast has been an inspiration for me and for thousands of other niche site owners, entrepreneurs, bloggers, and affiliate marketers. I think that a lot of the success of Pay Flynn's wonderful podcast is Pat's personality. He's a likeable character who shares the details of his triumphs and failures with transparency.
Pat is the kind of guy you'd like to meet at a coworking space, entrepreneur conference, or anywhere really. He can chat about blogging until the cows come home and he's been doing it as a business for almost 10 years.
Guests on the SPI show tell Pat their unique entrepreneur stories. Mostly about how they hit rock-bottom but rose to the top again. But there are always nuggets of actionable advice for anyone in business. If you want the kind of show the makes you take action, then this inspirational podcast will push all the right buttons.
Grab a pen and paper as you'll be taking lots of notes. SPI is also one of the best affiliate marketing podcasts. Pat Flynn makes most of the income from his website through affiliate marketing so he certainly understands that sector of business. Take some advice from this man!
A new show, but already one of my favourites is the IndieHackers podcast from Courtland Allen. If you're interested in software, business, or niche projects then the success stories in this podcast will get you seriously fired up. Courtland's no BS approach to getting the most value from his guests is refreshing.
I've been reading the IndieHackers blog for some time now and it's definitely on my top 3 list of sites for inspiration. Courtland asks questions of entrepreneurs exactly how I would myself, or at least I think I would. The questions are direct and to the point. The interviewees don't hold back either. Revenue numbers, growth rates, marketing strategies, and bootstrapping techniques are all discussed.
If you're just starting out you can hear the stories of entrepreneurs who recently moved from no-revenue businesses to profitable. If your plan is to dominate your industry then interviews with people like Chris Chen of Instapainting (which is also one of the most popular posts on the blog) is a great podcast for inspiration.
For people who aspire to be owners of a side-income company or a business that supports their lifestyle, there are interviews for you too. IndieHackers delivers interviews with entrepreneurs in these exact situations. Check out the interview with Jason Grishkoff of submit hub.
At the time of writing, there are only a handful of podcast interviews on the site. However, Courtland is busy recording new ones and if the quality of his text interviews is anything to go by, the new podcasts coming out will be of a very high standard. I've consumed all of the text interviews on the website and am eagerly awaiting more audio versions. Long may this show continue!
These guys have been at the podcast game for years. Over those years the production has become very polished and Dan (one of two co-founders), in particular, has really become the voice of the show. He's developed into a very polished podcaster. I love listening to the anecdotes, success stories, and opinion of both Dan and Ian. These guys live what they preach, they don't sell out, and they don't go with a hard sell (or any 'sell', for that matter) when it comes to their own businesses.
I've learned a lot from the Tropical MBA podcast and I'm sure I'll keep adding to the database of strategies and tips. Topics discussed include:
This is not a podcast for wannabe Mark Zuckerbergs, however. The TMBA guys preach lifestyle-business tactics and most of their guests have no desire to work for a large startup. Their idea of success is having a business that gives them the lifestyle they want. And they have a compelling way of promoting this business ethos. Every one of their guests has built a business that lets them live as they want and the message is clear: Joining the rat race is not an option for the Tropical MBA tribe. Living the dream on your own terms is the goal.
Kudos to Dan and Ian!
Nick Loper's podcast accompaniment to his very successful Side Hustle Nation website is a great resource for aspiring entrepreneurs and seasoned professionals. The focus is on making money on the side. But that doesn't mean that guests on the show are merely adding small sums to their incomes. Some of Nick's guests make millions of dollars from businesses started as small projects, extra money making opportunities, and passions that turned into lucrative businesses.
An inspiring podcast for people that need reassurance that their niche business idea is a potentially lucrative one. Some of the success stories are nothing short of amazing and will make you think twice about dismissing 'crazy ideas'.
If you'd like to follow along with a startup founder as he builds his company from scratch then this is the podcast for you. This is a podcast about startup culture, funding, venture capital, human resources, and more. You won't just get the good bits either. The show gives equal time to the failures as to the triumphs.
An entrepreneur's journey will have failures and the importance of learning from these challenges is huge. If you've ever felt like they are falling apart in business, the Startup show will resonate with you
A very polished show from seasoned podcaster Alex Blumberg.
Darren Rowse has been around almost as long as anyone can remember the word 'blog' being used. He was an early adopter of this format that would take over the world. Although he hasn't been as quick in adopting podcasting, Darren has built a good reputation as a podcaster since June 2015.
As with the ProBlogger blog, much of the content of the show is about building a better, more profitable blog. Episodes are fairly short, with the longest being around 45 minutes. But there are tons of good value in each episode. Most of the topics discussed can also be found on the Problogger main site. Darren has been writing blogs since 2004 and there is a lot of information in those archives. But for people that prefer to consume their content in an audio format, this is a great way to learn about making a business from your website or blog.
Darren is very well known on the blogging scene and his podcast continues the laid-back and friendly style of his writing. One of the first bloggers to disclose his income levels and how he monetizes his blogs, Darren is transparent in all aspects of his business. Are you an aspiring entrepreneur who wants to know how to become a professional blogger? Well, listen up!
Andrew Warner is one of the old guard of podcasting. He's not old, but he's been at the podcasting game for a very long time (in Internet terms). Every Mixergy episode is researched, produced, and delivered by a professional team of people headed by Andrew, who does the interviewing. Andrew was a successful entrepreneur long before starting Mixergy so he's walked the talk. He understands business and he knows what it takes to grind away for years before making a breakthrough.
The show focuses on successful entrepreneurs, ones with proven revenue streams. It provides inspiraton for people starting their entrepreneurial journey and for people that have already made it.
Keith is the founder of Fat Frog Media. He has worked in the tech, fitness, food, and hospitality industries. Keith helps businesses improve their marketing and conversion rates.