How to get reviews on Facebook business pages
Business page reviews on Facebook are important for two reasons:
1. Reviews give your business credibility and more exposure to the world's biggest social network.
2. Search engines such as Google use Facebook reviews as ranking signals.
That's why. Now let's look at how to get Facebook business page reviews.
Step 1 – Create Review Links To Share
Create an easy link for your current customers, website visitors, or email readers to use.
There are several ways to do this.
If you don't use WordPress but you have tech skills, you can create a redirection in the .htaccess file on your server. This is a line of code that redirects yourdomain.com/facebook for example to the review tab on your Facebook business page.
If you use WordPress, you have two options (apart from the one above)
Yoast Tools
Create a redirection using Yoast's Tools. Hover over the SEO tab in the WordPress admin panel and click Tools.
On the next screen click File Editor.
This part is the same as editing the .htaccess file on your server but Yoast makes it easier to access the file.
Add a redirection such as Redirect 301 /facebook/ https://www.facebook.com/pg/fatfrogmedia/reviews/
Put your businesses page URL for your own businesses review page.
Click save. You can then send people to your easy to remember URL.
Pretty Links
Install Thirsty Affiliates. Create a short link that shows you view click statistics and makes it easy to change multiple across your website.
Paste the URL of your Facebook review page. It should look something like this: https://www.facebook.com/pg/fatfrogmedia/reviews/
Now create a short URL such as facebook-reviews or simply facebook.
The URL should look like https://fatfrogmedia.com/facebook
Share the link!
Step 2 – Add Review Links To Your Email
Add your review link to your email footer so everyone you message has a chance to see it.
An example might be:
John Smith
MyCompany.com
Love us? Review us on Facebook https://mycompany.com/reviews
Step 3 – Actively Promote The Review Link
Keep the link handy for customer chats and online interactions. Before you finish a chat on your website, Facebook, WhatsApp, Slack, or any other communication channel, try asking your clients for a review and drop the link on the chat message.
Step 4 – Get Likes, Follows & (Hopefully) More Reviews
Get people to like your page. If they already like and follow your business page, they are more likely to see posts and content that you put out. An important part of brand trust is the notion of touch points. The more someone sees your company's branding, the more they are likely to trust it.
If you run ads to posts or you boost posts on your business page, open up the list of people that liked the post. Invite everyone that isn't already a fan of your page. If they've already engaged with your content, they will be more likely to like your page too.
Getting reviews is easier if people already feel like they know and trust a business.
Step 5 – Embed Review Widgets On Your Website
Adding positive reviews of your business to your website helps with social proof. But it helps in a couple of other ways too.
An embedded review widget in your website is tempting for people that just love to click on anything Facebook-related. Again, make it easy for people to give you a review and they are more likely to do so.
It may help with ranking. There is debate over whether search engines can index (read and crawl) embedded content on your site. However, reviews are another way of adding user-generated content to your site. I know for a fact that comments on a blog post do help with ranking your page.
Does Google include Facebook embedded content in the ranking algorithm? We will only know if they tell us.
Step 6 – Use The Right Template
Pick the right template for your business type. Here's how:
On your business page, click Settings and click Edit Page on the left-hand-side tab.
Click Edit beside the current Template.
Local businesses should choose the Business Template. Choose the template that best suits your business.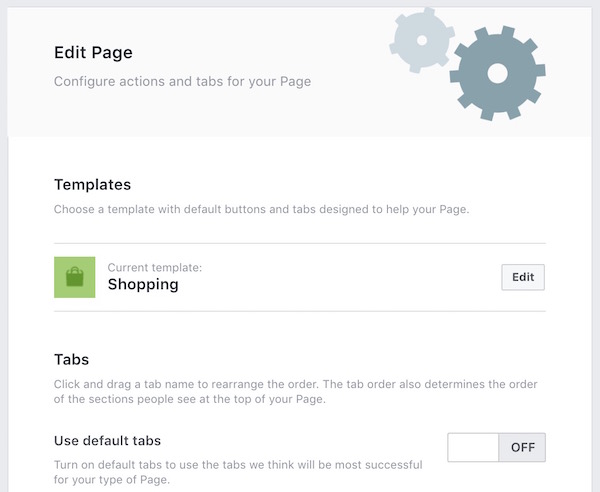 Step 7 – Make Sure Your Facebook Page Has A Review Tab
This one seems obvious, many people fail to set this up. The review tab is probably not visible on your page if you set up the business page as a generic-type page.
To get the reviews tab to appear, click the About Tab on the left when viewing Page information.
Click Edit Page Info, which you can find to the right, just below the call to action (Message us or Contact Us).
If you don't want to add all of your address details (online-only businesses prefer not to) then you can just add a city.
This should bring up the Reviews tab although it's not foolproof. Facebook is a closed box so there's no suggested way to do this. The support forums are run by amateurs and this adds to the confusion.
Play around with the templates and address settings until you can see the reviews tab. Try to add as much information to the page as possible as this will help.
Step 8 – Incentivize Reviews (Use with Caution)
Rather than offer incentives to customers for checking in with Facebook when they visit your business premises, simply make them aware of the "check-in" facility. Put signs up near your reception or waiting area for customers to see.
Foursquare was the first company to come up with the check-in feature but Facebook has an ace up its sleeve.
After someone checks in at a location, they receive a message from FB sometime afterward, asking them to review the business. This will not work every time, but it's another way of prompting people to create reviews without breaking Facebook's extensive terms of service.
Note: There are rules (FCC, Facebook community, and Google guidelines) around offering incentives for reviews, especially positive ones. Facebook's guidelines are vague, like most of their guidelines.
Step 9 – Viral Marketing (Use With Caution)
Use viral marketing software like Vyper to create contests that award people with better chances of winning if they leave a review.
Warning: Facebook does not want businesses to incentivize reviews. Asking for reviews in return for a reward will break FTC rules also.
Viral marketing software adds gamification to your marketing. People love to see themselves winning and reaching the top of a leaderboard. If the prize you are offering is tempting enough, they should work harder to promote your business.
A word about negative reviews.
Don't try to remove bad reviews unless they break privacy laws or some other policy. Embrace bad reviews by responding with professionalism. The bad reviews can even help with your profile as they show engagement, add content, and show clients you can respond to complaints with confidence.
Step 10 – Ask for reviews via Facebook Messenger
Asking for reviews on Facebook via a Facebook Messenger chatbot is a very natural way of generating reviews. The customer is already on the platform and there's no surprise. Removing the friction involved in adding a review gets you better results.
Frequently Asked Questions
How do I get a Facebook review link?
Click Settings at the top right of your page
Click Templates and Tabs on the left-hand panel
In the Reviews tab row make sure Reviews are ON.
If reviews are not visible, scroll to the bottom, and add a review tab by clicking Add a Tab.
Can I remove a bad review on Facebook?
You can't remove a negative review on Facebook but you can respond to the review by adding a reply. Always respond using your Facebook business account. You can also report a review that does not conform to Facebook's Community Standards.
How do I increase reviews on my Facebook page?
Allow users to Check in. Facebook will remind them to leave a review.
Ask previous customers to leave a review.
Put the reviews tab front and centre so that people can easily find it.
Promote 5-star reviews on your website with embedded content, and include a link back to the Facebook page.
Get more likes for your page. This will keep people engaged with your content and more likely to review your business